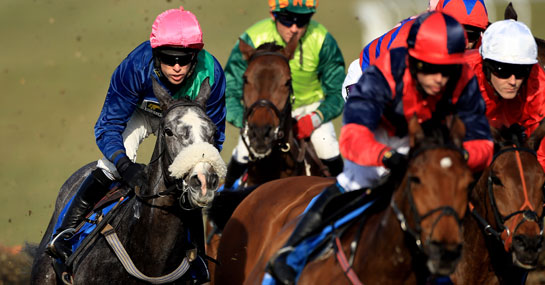 No luck on Wednesday, with all three selections failing to oblige. Estonia went closest of them all, finishing a length behind the winner of her race in 2nd place and if it wasn't for being checked when making her move a furlong from home, she could well have won the race. Whether she would have is completely beyond me but she travelled into contention full of running and just couldn't get sufficient room alongside the rail when Luke Morris had set down for the drive. No point crying over spilt milk I suppose and hopefully we'll be on the end of a lucky result soon to make up for this one! Disappointing and gutting.
Patsy Finnegan was quite weak on the exchanges but performed well I thought. Having travelled and jumped well throughout, it looked like he'd have a fair chance of fighting out the finish but the race turned into a sprint for home and that's not what he's after at all. Now his strong-travelling ways in this race may have been a result of the poor enough gallop but I'm sure that this mark is not beyond him once they go harder at the head of affairs and it'll be interesting to see whether King keeps him on the go over hurdlers or sends him back over fences. If he stays in this code, there is a fair chance that I will be siding with him again when conditions suit. The other selection, Mumbles Head, ran no sort of race at all and seems to have very much lost his way. Although, given who his trainer is, a "shock" return to form wouldn't surprise.
-6.00pts on the day. February is nothing but bad luck! Form of last 10 selections; 1-4-1-7-4-P-5-7-7-2.
With regards to the current statistics for the month so far; the totals are currently -14.00pts from the 18 selections, 2 of which were winners and 3 of which came 2nd. I'm still gutted about Shawkantango! Since the season began, the total is +113.50pts but results have slackened somewhat in the past numbers of weeks. Hopefully a good run of form is just around the corner and it'd be lovely to get out of Cheltenham with a very sizable profit. I'm already eyeing up some potentially nice ones there and after last years utter, utter disaster, I might get a bit more fortune this time around! It should be fun and exciting at the very least.
I mentioned that Nocturnal Affair was interesting me at 13/2 over in Meydan but I thought I was doing the right thing by leaving him alone. Just like Attaglance on Sunday, he went on to win fairly easily and once again, Horse Racing has helped to make me look like an absolute tool! This ain't for the faint hearted. 🙁
Two selections for Friday and hopefully one of them could oblige. The first one is exceptionally risky given his reliance on races being run one way and the other is potentially "one for another day", so God knows what could happen. Let's just hope for the best! Have a good one folks.
2:50 Lingfield

- Salient -

2pts @ 10/1 (Bet365, BetVictor)
The market leaders in this modest contest look too short in the betting and Salient could prove to be the liveliest runner at a fairly nice price. Michael Attwater's 8-year-old clearly isn't the horse he once was but he has run a couple of encouraging races (including over C&D on penultimate outing) before he flopped here last time out in a race that wasn't run to suit him. I'd be a liar if I said that I thought this fellow would be getting everything to suit today but there is a chance that he could knick it from the front should his connections decide that they're the tactics to employ. Joe Fanning being booked for the ride is very eye-catching and given how well he's riding of late, there's no better man for the job, especially on a speedy front-runner. Fanning has past experience of riding the animal, which came at this time last year, but both rides weren't exactly fortunate and I'm hopeful that this is a significant booking (2-7 for yard last year). Salient's current rating of 69 is the exact mark that he won off in July of last year, which came at Epsom in a better quality contest. The massive risk here is that he'll get pressured too early and sulk, as has been the case on numerous occasions throughout his career but it doesn't seem to be assured and I'm happy enough to take a chance at the current price. Small/medium stakes will do the job and I wouldn't have him too much more than 6/1 if I was in control of the book. He should go well with a bit of luck, here's hoping.
Result - 8th @ 8/1; Ran fine until the final furlong. Needs more rope.
3:45 Warwick

- Fortification -

3pts @ 13/2 (Powers)
I'm rarely too keen to punt in the extreme staying handicap chases but I'm going to make an exception here as I feel that Fortification offers a hell of a lot of value at current best-odds of 13/2, although I'm worried that he could be another joyous "non-trier". I'm going to ignore that (vital!) factor as it's complete guesswork and hope that Keiran Burke's speedy 9-year-old grey is on the job today, as I'm sure that he has another win in him off his current mark when getting everything to suit, which seems likely here. Last time out, this usual front-runner showed very little, as he was held up towards the rear of the field - on the very wide-outside - over 3-miles at Kempton and just couldn't get involved in a race that suited those on the pace. He was eventually pulled-up before the final few fences and it was a very, very odd run, one that should be forgiven. The horse is quite all-or-nothing and that's likely to be the case again here but the step up in trip to 3m 5f at this speedy track will suit this relentless galloper right down to the ground and it looks likely that he'll get to dominate proceedings should connections decide to send him out with the intention of doing exactly that - which I'm hoping that they will. Timmy Murphy is a very positive jockey booking and if he can work his magic, I'm sure that he'll have a lovely spin around Warwick today. Keiran Burke hasn't got many runners as of yet but it's as clear as day that he can train 'em and his record with his chasers so far is impressive, as 6 wins and 4 places have resulted from just 19 runners. The market should be very informative here and let's hope that the Fortification who sluiced in at Exeter before running a cracker in the Southern National turns up here, because if he does, he should be no bigger than 7/2 against this opposition with so much in his favour. Obviously there's plenty of risk attached and I'm unsure what connections will have planned for this horse but he's a very big price and medium sized win stakes shall be played. Of the rest, Trigger The Light (8/1) looks second-best to me at the prices.
Result - Winner @ 11/2; Jumped really well and brilliant ride from Timmy.
------------------------------------------------------------------------------------------------------------------------------------------------
I thought that this video is well worth a watch folks, for help with your own betting mentality if nothing else. Logical thinking certainly helps me whenever I feel like everything's going arse-ways and I think that Hugh puts across the argument quite well. I actually had a losing run of 49 during the flat season last year and still came out massively on top - although plenty of those finished in the places at fancy each-way prices.
------------------------------------------------------------------------------------------------------------------------------------------------