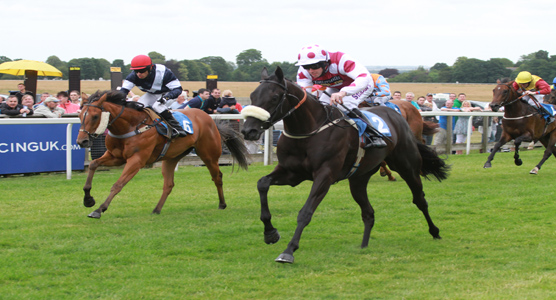 It looked like we were going to hit a nice one with Poetic Dancer coming into the final furlong, as she got to the lead and is just the type that you'd expect to finish strongly at Salisbury. Sadly, she was forced to race a lot earlier than is ideal, having chased a strong pace, and was proved to be a spent force when it mattered. A lack of race-fitness may have played a part, but the simple fact was that it was all run to favour those patiently ridden and was going to be tough for her to see out the trip given how it went. It was a real cracking effort, with her doing best of the more prominent racers by some way and needs marking up. It's clear to me that she can win again off her mark, possibly at a flat track when the pace is strong. It just did not end up being run to suit her enough in this today, but she did remarkably well in the circumstances.
Watered Silk has had problems with breaking away from the stalls in the past and blew his chance once again by missing the kick. He didn't have to work overly hard to make up the ground and get back into the lead, but it was already going to be a tough task for him to leave victorious without those goings on and it was made impossible after that. He held every chance in the straight but couldn't last home, which is not a surprise given his early exertions. The eventual winner won cosily, so it may not have mattered but the race would have taken a completely different complexion had our fellow got away from the start properly and who knows how it would have went, as he got the run of the race up top. It's typical of our luck of late.
-2.00pts on the day. Form of last 10 selections; 5-3-7-5-7-0-4-8-4-3 (0 winners & 2 places).
I'd be a liar if I said that I thought we'd end the recent mediocrity here today, as the three selections that I've gone for all come in tough handicaps and we'll need a lot of luck, which has been in short supply for us for some time now. However, it will, 100%, eventually swing back around in our favour and the fingers are crossed that it'll be sooner rather than later. The bad runs give you the worst feeling possible and to be honest, at this stage, I don't enjoy posting up the selections like I used to. Simply because it's going wrong for us. Usually I'd expect some mini losing runs here and there, with the odd mid-to-bad one, but everything that has gone on through the latter part of the summer takes the biscuit altogether. I still put in the same effort, still use the exact same methods but just can't hit the good runs like during the first six months of the year. After a while of the bad run, it was just a case of "oh well, this was due" but it has gone crazily beyond what was due to come our way. I've no idea why. Just can't get any luck when I do manage to call things right, whilst the rest just don't run well but that's always been the case, as I usually side with the horses who will either run a stormer or do very little. If I can't swing it properly by the end of the year, I'll make sure that everyone's account is open until I do regain all the losses. Simply, the target between now and the end of 2012 is to make a profit of 100pts. Seems impossible at the moment, but I'll try my hardest.
Should all end up defeated over the next two days, I will be trying a few different things. Update to follow.
Anyway, happy thoughts, happy thoughts! Must try to get some confidence again. Have a good day folks.
2:00 Haydock

- Bop It -

1pt @ 10/1 (General)
Any time I side with a Bryan Smart trained runner it bombs completely but hopefully Bop It can change that around, now returned to the C&D that he was last successful over. This 3-year-old gelding is a rather well-related sort, being a half-brother to Hoof It and Ladies Are Forever, and although he clearly is not up to the level of those, he is a potentially decent sprinter who should improve with experience. His juvenile season was a relatively busy one, in which he done very well to win twice (a maiden and a nursery, easily off 73) considering he was constantly over-racing. He settled down after two runs this season though and got off the mark in slightly worse handicap than this. That came off a mark of 78, in which he only won by a neck but it was a cosy enough victory and showed that he had no problem with the minimum trip, that being just his second run over it. The handicapper put him up by 4lbs for that run, but he disappointed when stepped up to 6f at Doncaster a couple of weeks later. It's hard to put a finger on what went wrong that day, as he showed nothing at the end of his race and the only thing that mightn't have suited was racing without any cover over the longer trip. The fact that he was put away for nearly two months afterwards may suggest that there was an underlying problem resulting from that outing and there's enough there to ignore it. The race looks decent now though, with many franking the form. His reappearance run came back over the minimum trip, in a valuable three-year-old handicap but again he didn't get much cover and looked none too comfortable on the rain-softened ground. You could also make a case that he would have needed the run and hopefully it will have put him spot-on for this. The handicapper has dropped him 2lbs, back down to a mark of 80 and that's almost certainly a workable one. Returning to this track and, more importantly, on fast ground will be a big help and his regular jockey, Tom Eaves, hops back on board, with Lee Topliss replaced (was his first ride for the yard LTO; possibly indicating that they weren't expecting too much). The race will be run to suit, with Jinker Noble (another possible winner) and Whozthecat, along with a few of the others, likely to ensure that there will be no hanging around and Bryan Smart's gelding will appreciate that, due to his inability to quicken up. The mare, Queen Grace, may be hard to beat if in the same form as her Musselburgh win but that was five weeks ago now and she's 8lbs higher here, so to see her at 3/1 in what is a competitive heat is a bit mad in my opinion. You could give chances to a lot of the others as well but Bop It looks to have more to offer the game, especially on a fast surface, and looks worthy of support at the current prices. It won't be easy for sure, but he's capable and here's hoping that the market speaks in his favour. If it didn't, I'd be rather worried. Anyway, he shouldn't be much bigger than 6/1, at the most.
Result - 3rd @ 11/1; Ran a cracker, just came up that bit too short.
3:35 Haydock

- Julius Geezer -

1pt @ 12/1 (Betfred, BetVic, Boyle, Power)
Julius Geezer really struggled for form last season, on the back of a fine juvenile season that led to him finishing off as a 98-rated sprinter. That came after winning the Lily Agnes easily at Chester on his third outing and then grabbing a place in a Listed contest at York. It was definitely an inflated rating and helped him to end like many good juveniles, by ruining his three-year-old season (only ran well once). However, he has looked a much more galvanised performer now that he's a 4-year-old, first winning a seller in May and then following up with two handicap wins from his next three outings. The most impressive of those came at York, in a 19-runner event in which he won by a nose, from the then 75-rated Prodigality. He has gone on to uphold the form nicely, along with some of the others in behind. Tom Dascombe's charge has since run twice, running well on both occasions and is just 3lbs higher than that win. The first of his latest two outings came over C&D, but he wasn't ridden to best effect in my opinion and failed to give his proper running as a result, though still posted a very creditable effort to finish fourth. His most recent run came at Newmarket, in which he was well-supported to be sent off as a 5/1 shot but went off a bit too quick at the head of affairs and ended up losing his position as they ran uphill for home. He kept on dourly though and wasn't beaten too far, so at least shaped as if still being in form. I think that the flatter tracks suit him best and his yard have an exceptional record at the track, with 25 winners from 107 runners over the course of the past five years. They're in fine form of late too and look to have a chance of enhancing that record here. It will be very tough given the sheer number of runners in the field, but Julius Geezer has plenty to suit and shouldn't be priced so highly. He will need plenty to go his way but can win off this mark and hopefully will.
Result - 12th @ 9/1; Below-par, though the draw seemed to hinder him.
5:15 Haydock

- Rakaan -

1pt @ 8/1 (General)
Jamie Osborne has his string in fine knick at the moment and Rakaan has shaped as if his turn isn't too far away on each of his last three outings. This 5-year-old gelding rather lost his way after a trip to Meydan at the beginning of last year, a trip that saw him win a valuable 7f handicap off a mark of 101 and he's very well-treated off his current rating of 88. His latest run came just a couple of weeks ago at Goodwood and although he failed to land a blow, the ground was against him and he had a tricky draw. Liam Jones didn't get him overly well positioned at any stage either and it was a real encouraging run in the circumstances. Previous to that, over 7f at Newbury, he ran a cracker in a similar event to this, finishing in eight place but beaten by just 2.5-lengths. It looked like he could come through to win it at one point (hit evens in-running) but his effort flattened out after making up ground from the rear and he had no more to give. The likelihood of getting a strong pace back around a bend is going to help him and Graham Lee hops on board again, which is certainly not a bad thing given how well he is riding (had 21 winners in August; 17% strike-rate). He's undoubtedly on a well-handicapped animal, one who has shown a few glimmers of hope lately and the yard have banged in 5 winners from their last 20 runners. Osborne makes a good journey to come to the track as well and his only other runner is also in this race, but is too short for my liking. Rakaan is the most overpriced runner in the field and should be capable of going close in a race that looks likely to be run to suit. He'll need plenty of luck given his run-style, but has the ideal man on board to go and find it.
Result - 8th @10/1; Poor performance. Didn't look to be putting it all in.